Lotsaloot Jackpot and Online Casinos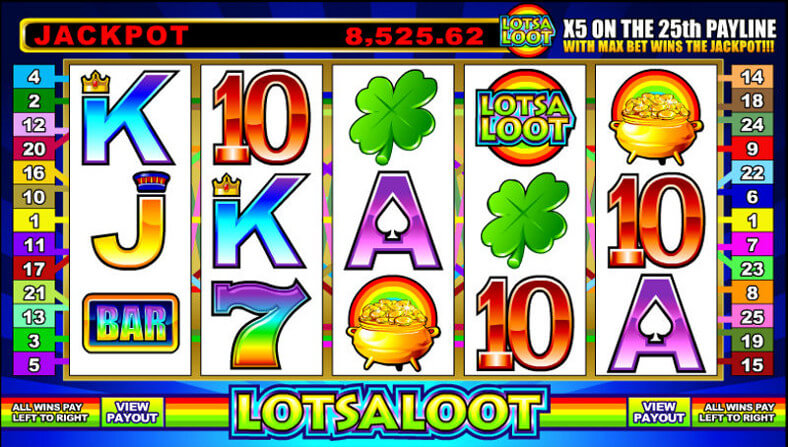 Lotsaloot Jackpot and Top Casinos
| | | | |
| --- | --- | --- | --- |
| | Current jackpot value: | | |
Lotsaloot is a product from Microgaming, a company that has established itself as one of the most reputable in the industry. Lotsaloot is a series of online slots games that are available in both 3-reel and 5-reel versions.
Jackpot Information
| | |
| --- | --- |
| Game: | Lotsaloot |
| Reels: | 5 |
| Paylines: | 25 |
| Min Bet: | $0.10 |
| Max Bet: | $2.50 |
| Max Payout: | 10,000 x |
| Wild Symbol: | Yes |
| Multipliers: | No |
| RTP: | 92.14 % |
| Average Win: | $22,000 |
Best Jackpot Casino Sites
Lotsaloot 3-reel
If you are looking for a classical touch, then you should opt for the 3-reel version of the game. The Lotsaloot 3-reel version is designed like the traditional slot machine and uses the usual 7s, single, double and triple bars as symbols.
You will also have an extra wild symbol which is represented by the Lotsaloot logo. This wild symbol has substituting powers and can appear anywhere randomly to complete a winning combination. In addition, any wins completed by the substituting wild symbol get multipliers. One wild symbol gives out a 2x multiplier and two wilds give out a 4x multiplier.
There is only one coin denomination set at 0.20. The game has 5 paylines and the number of coins used can be adjusted up to a maximum of 25.
Lotsaloot 5-reel
Coming in as a sequel to the 3-reel version is the Lotsaloot 5-reel which features 25 paylines. The theme is quite similar to the three-reel version but the additional reels allow for the introduction of some extra symbols. You will a rainbow 7, a pot of gold coins, four-leaf clovers, and a bar as the symbols. The usual card symbols 10, A, J, K, and Q come in as fillers. Other than that, the game is quite simple with no fancy animations.
The wild symbol in the 5-reel version is represented by a brightly colored Lotsa Loot logo. This wild symbol also has substituting powers and appears randomly.
Lotsaloot progressive jackpot
The most exciting bit of the Lotsa Loot slots machine is the progressive jackpot. This jackpot is available for both the three-reel version and the five-reel version. However, the mechanism to win the jackpot in both games is a little different.
In Lotsaloot 3-reel, you have to spin in three wild symbols, the Lotsaloot logo, along the 5th payline. In the 5-reel version, you will need to spin in five of the brightly colored Lotsaloot logo symbols along the 25th payline. Using the paytable manuals of both games will help you better understand the patterns of these paylines.
To win the jackpot in both games, you will be required to play on the maximum bet value. Once the jackpot money has been won, all gamers are notified and the jackpot is reset to its minimum seed value. The current value of the progressive jackpot is displayed at the top of the slot machine.
Play Lotsaloot Jackpot
| | | | |
| --- | --- | --- | --- |
| | Current jackpot value: | | |
← Microgaming progressive jackpots